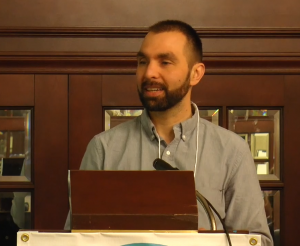 Étienne Roy Grégoire is a SSHRC-FRQSC funded Postdoctoral Researcher with CICADA in collaboration with the McGill Faculty of Law and the Perelman Centre for Legal Philosophy at the Université libre de Bruxelles (2019-2022). He holds a PhD in Political Science from the University of Ottawa, a Master's degree in Political Science from the Université du Québec à Montréal and a Bachelor's degree in Anthropology from the Université de Montréal.
His research focuses on regulatory regimes in the mining sector, particularly in Canada and Latin America. He worked for several years in the field of human rights in Colombia and Guatemala.
To learn more about Étienne's research, you can watch his presentation on "dialogue" and corporate social responsibility (CSR) in the mining sector, at CICADA's Montreal Meeting in May 2019. A list of selected publications is available here.
Contact: eroyg046(at)uottawa(dot)ca