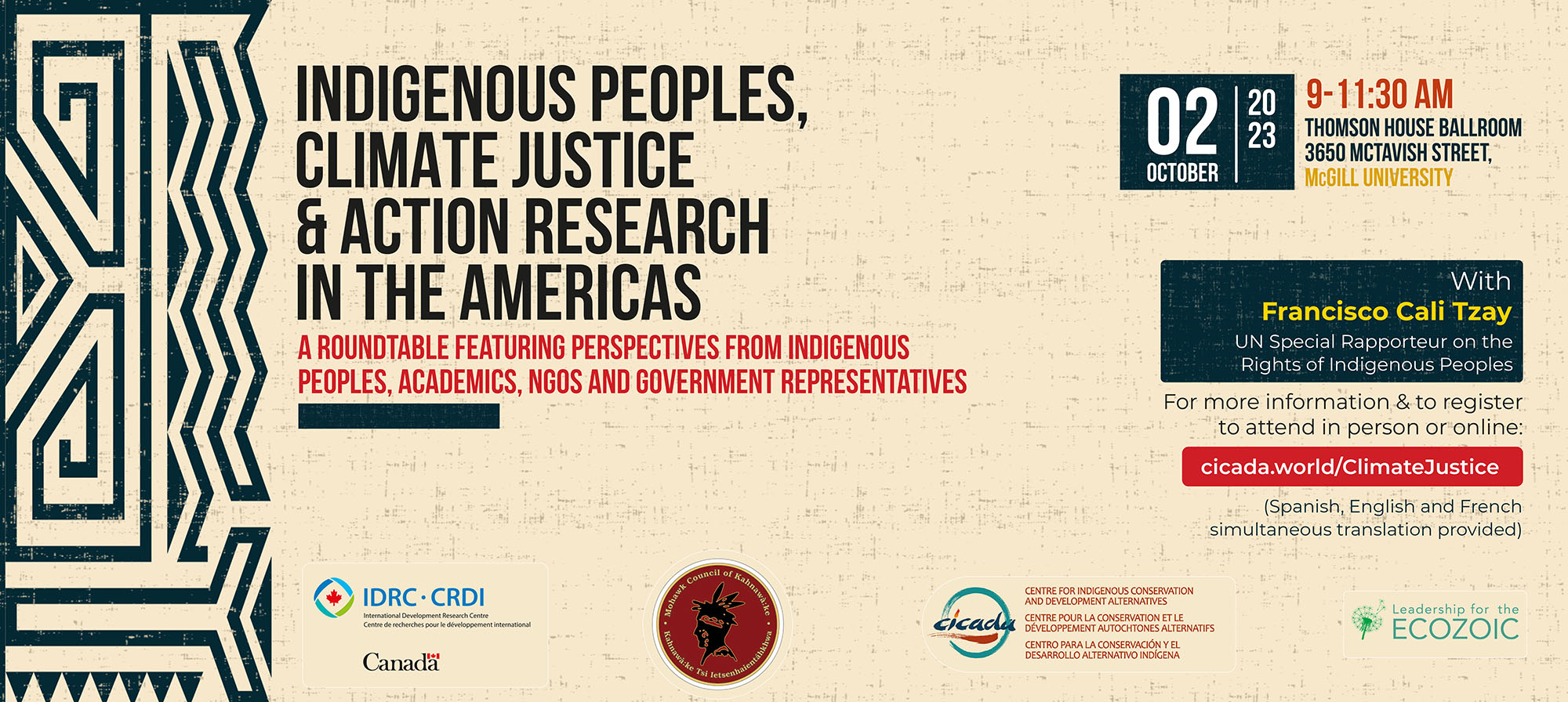 In Canada and across the hemisphere, we are grappling at once with two converging challenges: reconciliation for the ongoing legacy of colonialism, and the growing impacts of the climate emergency.
Please join us for a roundtable discussion on the effects of the climate crisis on Indigenous peoples in the Americas, and perspectives for transformation.
When: Monday, October 2, 9-11:30 AM EDT
Where: Thomson House, McGill University. 3650 McTavish St, Montreal
What does "climate justice" mean from the diverse perspectives of Indigenous Peoples in the Americas, and how can it be achieved? What are some key political, legal and other strategies, grounded in Indigenous perspectives, that can be used to pursue climate justice for all? What can the concept of "Territories of Life" bring to the analysis and action? How can Indigenous voices be fully incorporated into decision-making? What type of action-research has been useful in pushing for Indigenous-driven transformation? And how can Indigenous peoples directly benefit from initiatives and funding to tackle the climate crisis?
Moderated by Viviane Weitzner (CICADA/McGill) and Cody Diabo (Mohawk Council of Kahnawà:ke), roundtable speakers will include:
Francisco Cali Tzay, UN Special Rapporteur on the Rights of Indigenous Peoples, who will highlight key findings from his most recent reports on green financing and official visit to Canada.
Indigenous representatives (TBD), who will showcase the key policy messages emerging from a retreat with 50 Indigenous, academic, NGO and government representatives, taking place Sept. 28-October 1.
Adrian di Giovanni, Team Leader, Democratic and Inclusive Governance, International Development Research Centre of Canada, who will discuss briefly IDRC's current initiatives and approach.
Government of Canada representatives (TBD).
This hybrid event was held in-person and live-streamed online.