Come learn about Innu culture within the immersive setting of a traditional Innu Shaputuan
Where: McGill University, Downtown campus, Lower West field (near Redpath Museum)
When: Oct. 16-20, 2023, 9 am – 4:30 pm
Quebecers and the Innu people live together and share the same territory. So, why not take the time and means to get to know each other better and appreciate each other more? This program is a significant effort to promote a clearer and fairer perception of First Nations within Quebec and Canadian society. The Tshakapesh Institute presents Innu culture to the general public through their visual and performing arts, literature, traditional activities, and more.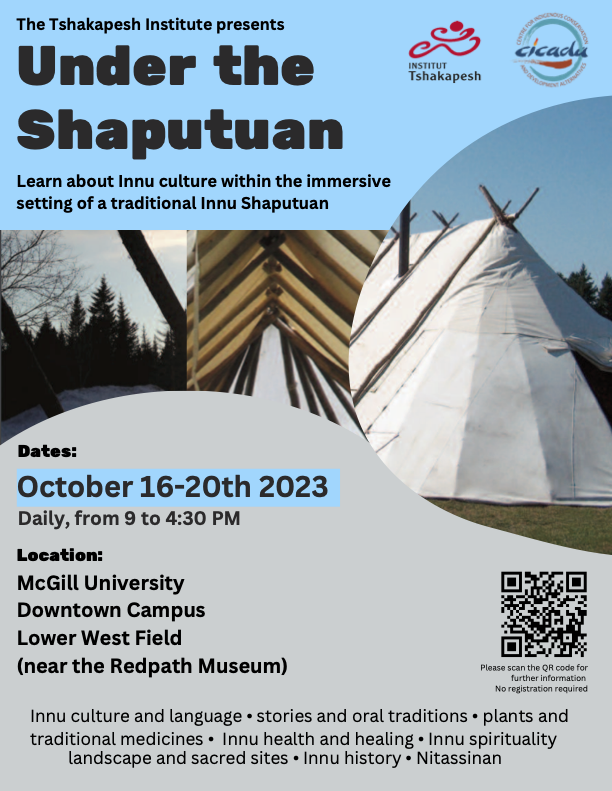 Program objectives
Acquaint participants with Indigenous reality through direct contact with representatives of one of the Indigenous nations of Quebec, the Innu Nation.
Enable participants to learn about some of the historical and contemporary characteristics of an Indigenous Nation.
Develop a positive and, at the same, realistic view of the Indigenous world, both past and present.
Encourage young people to be open to cultural differences, combat prejudices; encourage them to exercise critical thinking regarding ideas about Indigenous peoples.
Promote closer ties between Quebecois and Indigenous peoples.
Provide teachers with a vibrant pedagogy and an exceptional experience with their students.
The Tshakapesh Institute
Founded in 1978, the Tshakapesh Institute is a highly active regional organization deeply invested in Innu culture, the Innu language, and education.It currently serves eight Innu communities with a combined population ofapproximately 10,000 people: Essipit, Pessamit, Uashat Mak Mani-utenam,Matimekush/Lac-John, Ekuanitshit, Nutashkuanit, Unamanshipit, and Pakut-shipit. The Tshakapesh Institute team consists of experienced and knowledgeable Innu educators who provide an introduction to Innu culture, and share their expertise with students and visitors. They may also perform music,and dance, provide demonstrations of painting or sculpture, and showcase various artisanal objects.
Programming
The week of activities begins with the setup of the Shaputuan, a traditional Innu camp measuring approximately 20 feet by 40 feet. The Shaputuan is where participants will be introduced to Innu culture.
The Shaputuan is a privileged educational tool. Its aim is to arouse the curiosity and amazement of students and the public. This Innu camp marks an Indigenous presence and activities wherever it is set up. It can host classroom activities or workshops for a fairly large audience, as the Shaputuan can accommodate approximately 40 students.
For students or visitors, the experience beneath the Shaputuan is a unique one that breaks away from the daily routine. Participants are encouraged to step out of their routines and their "cultural bubbles," and take a symbolic first step into an Indigenous environment.
Main Activities Taking Place Under the Shaputuan
The opening ceremony led by an elder, accompanied by the teueikan (Innu drum).
Introduction of the facilitators and presentation of the activity schedule.
Discussions on: Indigenous nations in Quebec; The Innu nation (its history, language, territory, etc.); The Indian Act (its legal content and consequences).
Welcome address delivered by the Tshakapesh team and official representatives.
Demonstration of dances, songs, and drumming games.
Tasting traditional dishes and participating in the Makusham dance.
Testimonials about Innu life in the past and today.
Question and answer session.
Benefits of Shaputuan Sessions
Meeting and engaging directly with Innu resource persons.
Learning some basics of the Innu language.
Receiving an initiation into certain aspects of traditional life and contemporary Innu culture.
Trying traditional dishes.
Receiving answers regarding current ideas about First Nations and exercising critical thinking in this regard.