Sapara
Ecuador
The Sapara Nation of Ecuador are an Indigenous peoples native to the Amazon Forest along the border of Ecuador and Peru. Early in the 20th century, there were around 200,000 Sapara, occupying over 30,000 km. Today, there are less than 500 Sapara people left and only four, all aged over 70, still speak the Sapara language with some degree of fluency. The Sapara Nation is recognized by UNESCO as an "Intangible Cultural Heritage of Humanity" because their language and culture are in danger of disappearing. Thanks to their ancestral wisdom, they managed to develop a very precise language and culture to describe their environment.
For the Sapara, the world is forest (Naku), an ecosystem made up entirely of beings who communicate with each other, of which humans are a part. At the heart of Naku is a sacred territory of unparalleled natural diversity that Sapara elders named Kamunguishi. Although the Sapara defend it with their entire being, Kamunguishi is not a "reserve" that is kept separate from human activity and conserved as a storing space for resources. It is, rather, a home. For the Sapara, even though we experience the world as if it were material and disparate, composed of things, objects, resources, and bodies, these are mere parts of a larger domain that unites and animates all beings. This whole is called tsawanu: spirit. It is in the world of tsawanu that humans can learn to follow the path toward living well (buen vivir).
The Sapara's role in the world is to hold open a channel of communication with the spirit life that sustains the world; to continue learning from it; and to pass on this wisdom to individuals and communities around the planet so that we may collaboratively face the ecological crisis we are living through.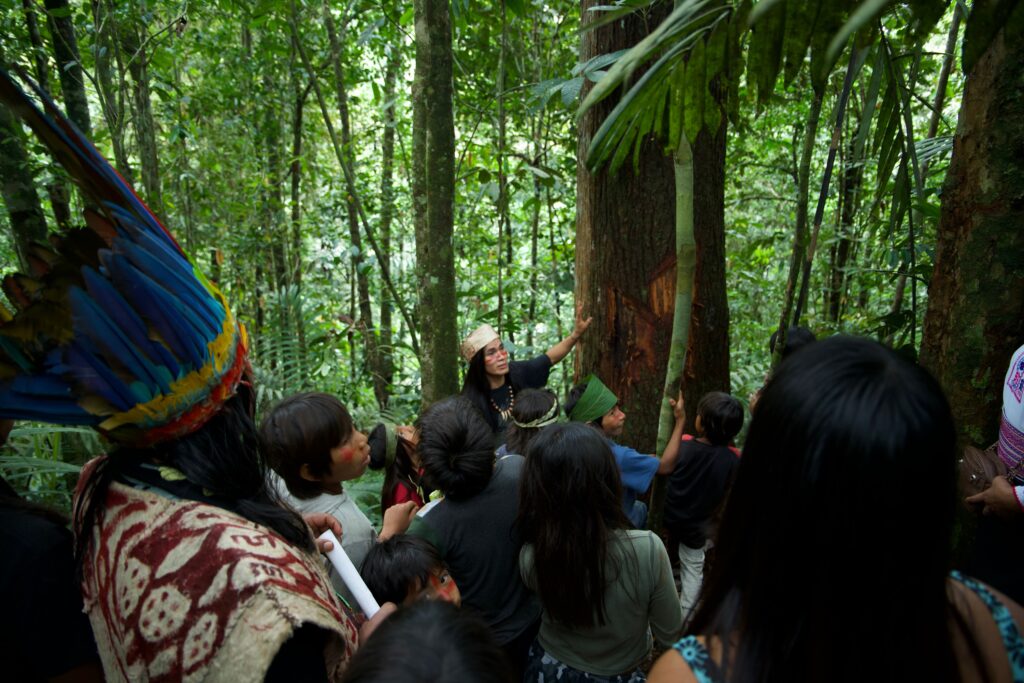 The Sapara are leading a variety of projects to protect their territory, to keep their culture alive and to help a planetary community of activists, academics and young leaders to rediscover their own connection to the living wisdom of the forest by offering them the tools and knowledge to make sense of and face the ecological crisis we are in. Some of these projects include:
In 2021, Sapara were on the verge of losing 70 percent of their territory: Fraudsters backed by government officials had the land signed over to allow a Chinese oil company to drill there. The Sapara, led by their spiritual and political leader Manari Ushigua, have been able to regain the title to their land after months of legal battles. McGill anthropology professor Eduardo Kohn delivered friend of court testimony in support of this case. Read more here.
In 2020 the Sapara launched Shimaka, which means living wisdom in Sapara: an education project aimed at preparing young community leaders from around the world to face the planetary crisis we are living by organising the Sapara's complex system of orally transmitted knowledge into a pedagogy and a curriculum for the benefit of young people and teachers at the local and planetary level.
The Naku Center is an eco-tourism project founded and run by the Sapara Nation. Dedicated to protecting the rainforest, Naku has been conceived as a way to share their ancestral wisdom and knowledge of the forest with people from around the world through an immersive experience.
In partnership with McGill Anthropology Professor Eduardo Kohn, the Sapara Nation wrote and widely disseminated a series of documents inviting international communities to join a their plea to rediscover concepts of territory stewardship and education based on listening to the living world. They are the Kamunguishi Declaration and the Education Declaration.
Research Creation
In partnership with McGill University's Anthropology Department and the Leadership for the Ecozoic Network, the Sapara are disseminating their living wisdom through sound-based, activist focused research. Listening to our imperilled planet's messages around potential collapse — or hope for rehabilitation – is at the heart of this outreach practice. Two of their major milestones in this field include:
The Witness Project. The Sapara Nation is part of planetary movement of communities, activists and scholars engaging with sound and listening as a form of activism. Find out more here.
Listening Out Loud: together with internationally acclaimed performer and musician Claire Chase and McGill anthropology professor Eduardo Kohn, Manari Ushigua, political and spiritual eader of the Saapara will represent his community at Carnegie Hall in a daylong celebration of Pauline Oliveros, the visionary composer known for her concept of Deep Listening. Find out more here.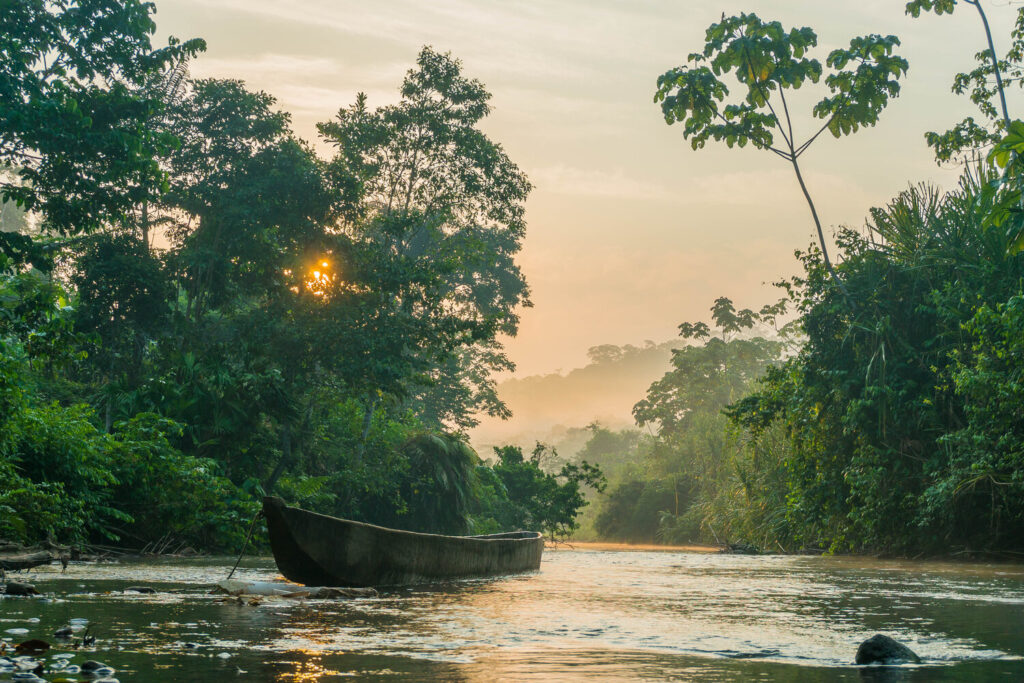 Manari Ushigua is the political and spiritual leader of the Sapara. He has been a key figure in the indigenous movement of Ecuador as the Vice President of CONAIE (The National Indigenous Organization of Ecuador) from 2013-2016, and as the President of the Sapara Indigenous Federation from 1999 to 2012. Manari has participated in international events, like COP21 UN Climate Summit and the UN Universal Periodic Review of human rights, raising awareness about the threat to his homeland. As a defender of indigenous rights, he has managed to conserve more than 276,000 hectares of primary forest threatened by extractive industries. Manari is the co-founder of the Naku Center, creating a new economic model in the Amazon that is based around cultural and forest preservation, and one of the forces behind Shimaka, an education project created by the Sapara Nation.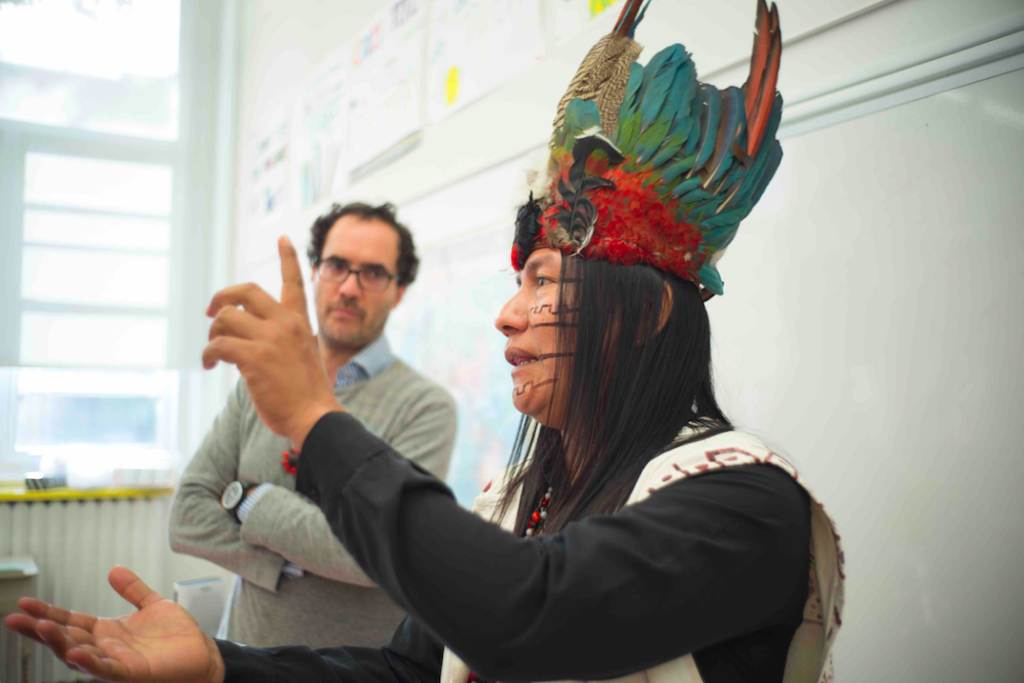 "One of humanity's key problems is that we have convinced ourselves that the forest is just a natural resource to help humans live better. By doing so, we are disrespecting the forest and in the same breath ignoring what we are." Manari Ushigua, political and spiritual leader of the Sapara.
Eduardo Kohn is an Associate Professor of anthropology at McGill University, the lead for the Anthropology for the Ecozoic Network Strategy Centre and an ally of the Sapara Nation fo Ecuador, with whom he's collaborated over many projects. Eduardo's lifework is dedicated to developing the conceptual equipment –the ideas, methods, and theories – to prepare us to live in this age of unprecedented anthropogenic climate change. Centrally, this involves imagining better ways to live with the living world, in ways that can allow that world to orient our conduct. It involves, that is, a fundamental rethinking of anthropology and "the human" so that we can learn to "ecologize" our ethics. Eduardo built a framework for understanding this living world and our connection to it builds on twenty-five years of sustained and ongoing anthropological research with Amazonian indigenous people living in one of the most biologically diverse ecosystems on Earth. He has built a long term alliance with the Sapara Nation of Ecuador.